Hydrojug and Project CIP Obtain Injunction Against Five Below in Trademark and Patent Infringement Case
Project CIP and Hydrojug recently teamed with the law firm of Tucker Ellis to obtain a preliminary injunction ordering national discount retailer Five Below and its supplier Gossi Inc. to stop sales of products that Hydrojug alleges infringe on its trademarks and patents. 
Hydrojug's corporate headquarters are in Ogden, Utah.  Six years ago, it began marketing its signature oversized (or Classic) water bottle.  This unique water bottle was an immediate commercial success.  Since then, Hydrojug has grown exponentially and expanded its product lines to include stylized water bottle sleeves, straws, supplements, and athletic apparel.  Hydrojug's marketing themes emphasize active lifestyle and hydrating with quality, well-designed products.  Last year Hydrojug was covered by Forbes Magazine and placed 33rd on the Inc. 5000 which ranks the fastest-growing privately held companies in the United States.
Along the way, Project CIP has assisted Hydrojug with its intellectual property strategy, including building a portfolio of intellectual property assets and enforcing Hydrojug's intellectual property rights.  Hydrojug's intellectual property assets now include United States, international, and foreign patents, trademarks, and copyrights.  Among these, Hydrojug has federal trademark registrations for its HYDROJUG word mark and its dumbbell-drop logo and a design patent for its lid shape: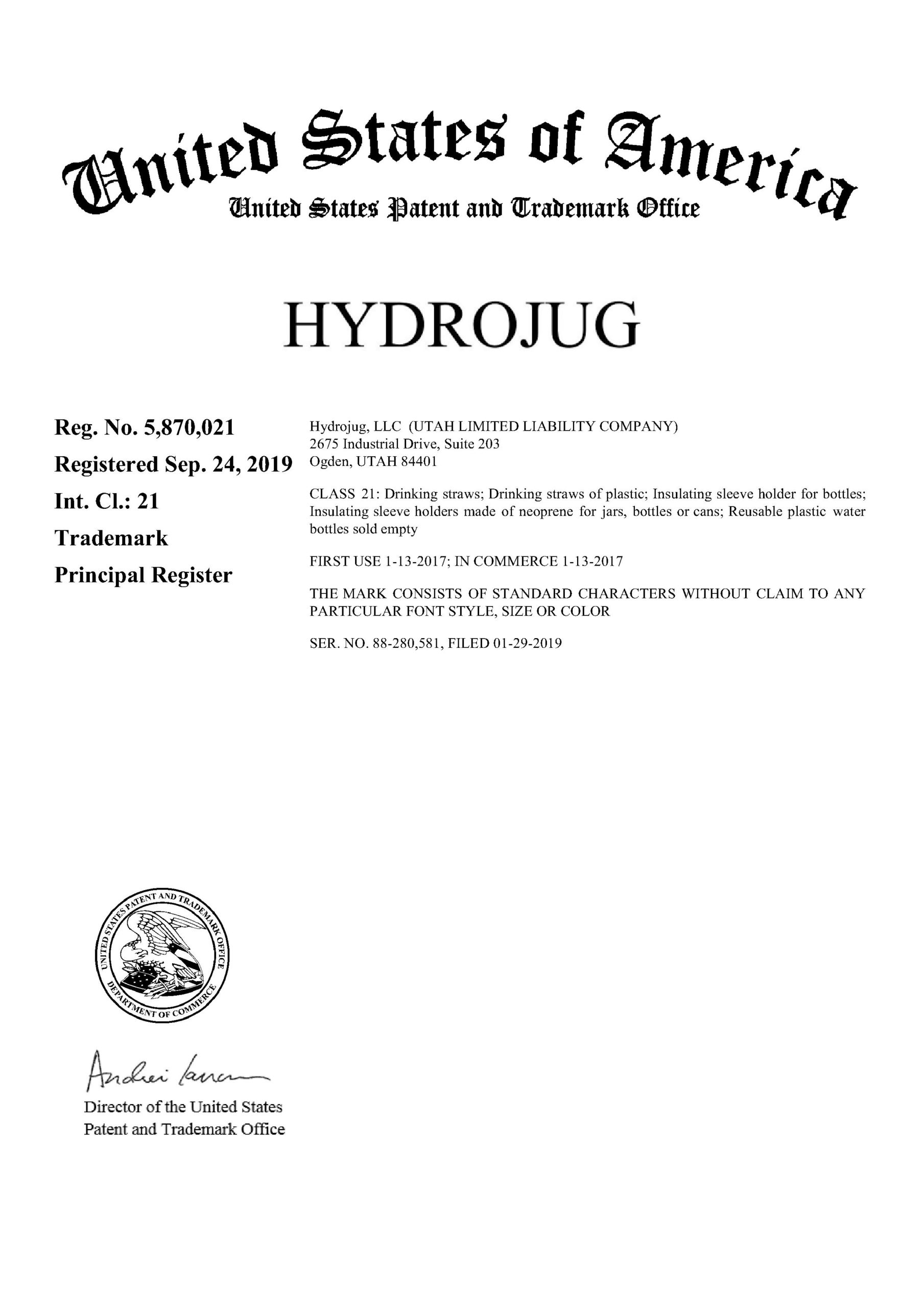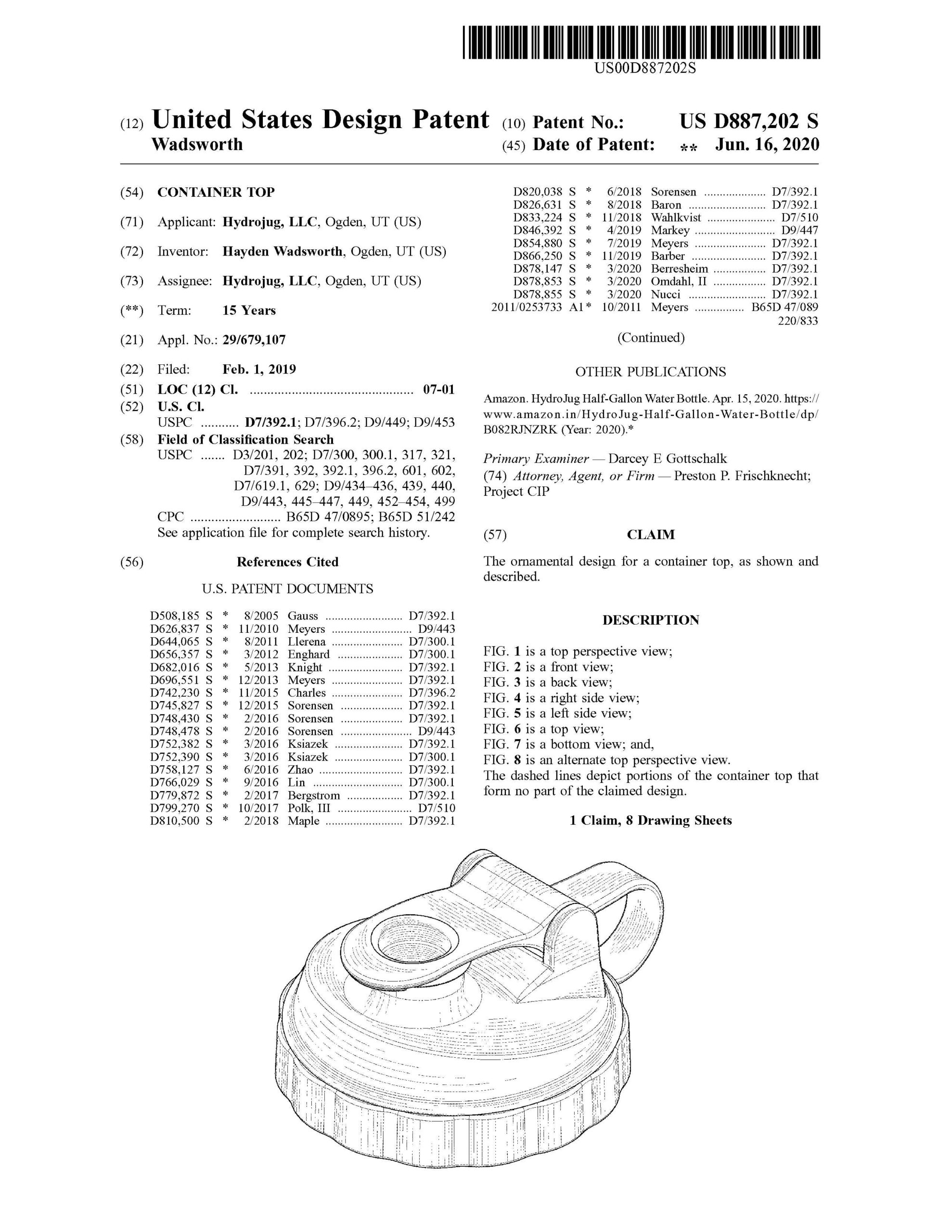 Five Below is a specialty discount store with over 1200 locations nationwide.  Earlier this year, Five Below began offering a product similar to Hydrojug's water bottle:
Shortly thereafter, Hydrojug filed a complaint against Five Below and Gossi in the United States District Court, Northern District of Ohio alleging patent infringement, trademark infringement, unfair competition, and deceptive trade practices.  When Five Below did not stop sales after litigation started, Hydrojug asked the court for a preliminary injunction.  A preliminary injunction is an order by the court in the early stages of a case which requires a party to refrain from or do certain acts.  Hydrojug's opening brief requesting the injunction can be found here:  Hydrojug Motion for Preliminary Injunction.  
Following expedited discovery, briefing, and an evidentiary hearing with witnesses and argument, Judge Pamela A. Barker granted Hydrojug's motion for preliminary injunction.  A copy of the decision can be found here:  September 2, 2022 Order Granting Preliminary Injunction. 
Below are some highlights from the Court's injunction ruling:
"The Court concludes that Hydrojug's mark is commercially strong."
"The Court concludes that Hydrojug's mark is descriptive but has nevertheless acquired secondary meaning and thus is entitled to protection."
"Hydrojug presents the Court with 'the best evidence' of likelihood of consumer confusion . . ."
"The Court is particularly mindful that there is ample anecdotal evidence of actual consumer confusion, as well as ample evidence that Defendants intentionally copied Hydrojug's marks and created a nearly identical mark."
"[T]he court finds that Defendants' conduct is likely to cause confusion and, therefore, that Hydrojug is likely to succeed on the merits of its trademark infringement claim."
"The Court concludes that Hydrojug has demonstrate a likelihood of success on the merits of its patent infringement claim."
"Hydrojug has presented evidence that its brand and reputation are suffering harm as a result of Defendants' cheap knockoffs."
Bloomberg Law covered the ruling in an article entitled:  Five Below Ordered to Halt Sales of Hydrojug Look-Alikes